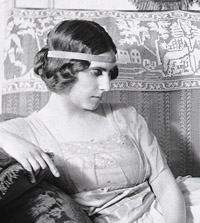 Beatrice Wood (1893-1998) is best remembered today for her lusterware pottery. Her bowls, chalices, and other utilitarian vessels graced with brilliant iridescent glazes can be found in museums and private collections worldwide. As a potter, her career began relatively late in life. She threw her first pot at the age of 40, but because she exhibited regularly and remained active until shortly before her death in 1998 at the age of 105, her career spanned some 60 years. Wood's interest in the world of art, however, began much earlier. While still a teenager, she struggled to separate herself from the affluent and conservative family in which she had been raised in San Francisco, and announced to her parents that she wanted to be an artist. At the age of 17 she went to Paris and enrolled in life-drawing classes where she sketched from nude female models but quickly discovered that her talents as a draftsman were limited. She returned to the United States and embarked upon a career as an actress and, because she spoke French fluently, landed small parts in the French repertory theatre in New York.
It was because of her ability to speak French that her career as an artist was resumed. In 1916, she met Marcel Duchamp, who, like many other European artists at the time, was living in New York during the war. She told him that she really did not understand modern art, claiming that anyone could do it, so Duchamp invited her to try, even offering his studio as a place to work. Since she also claimed that she could not judge good from bad, he volunteered to serve as her artistic coach. With his guidance, she produced a series of sketches and drawings that not only record the events of the period, but whose ephemeral nature and disregard for convention encapsulate the very essence of the prevalent vanguard artistic movement of the day: New York Dada. Duchamp selected her drawing of a stick-figure thumbing its nose to the world as the illustration for a poster, and her other drawings of this period chronicle the activities of the many artists and writers who congregated at the apartment of Louise and Walter Arensberg, wealthy collectors of modern art who were Duchamp's closest friends in New York. The Arensbergs held nearly nightly soirées in their large duplex apartment on West 67th Street where, for two years, Wood was a frequent guest. In was in this ambience that she attained the freedom she sought, and her lifelong commitment to the world of art was confirmed.
The Arensbergs moved to California in the early 1920s, and Wood followed a few years later. She began drawing again and, from 1925 through to the early 1930s, she produced a series of watercolors and paintings that again document the various events that took place in her life, but the style and subject of these works was far more romantic and idealized in outlook. Many drawings address issues in which she was involved at the time, primarily a love affair and crushing emotional breakup that threw her into a period of deep depression. This situation precipitated a more objective inquiry into the relationship between the sexes, a theme that preoccupied Wood throughout the remaining years of her life. It shows up repeatedly in her figurative ceramic sculpture, which she produced and displayed alongside her more traditional lusterware pottery. Many of these sculptures were executed in a consciously naïve style, causing Wood to refer to them as her "sophisticated primitives." These works address complex subjects—ranging from political issues to engaging moral commentaries—which continue when she resumed drawing in the mid-1970s. After working all day in her pottery studio, she drew for at least one hour every evening before retiring, amusing herself in an almost therapeutic fashion with the many humorous subjects she depicted.
Drawings from this late period—as well as from the Dada years in New York (1917-1920) and Wood's early years in California (1926-1930)—will form the uniting thread of the present exhibition. They will be combined with examples of her ceramic production, including not only traditional vessels and bowls, but also her figurative sculpture.
The show is designed as a reflection of the concurrent retrospective of her work held at the Santa Monica Museum of Art ("Beatrice Wood: Career Woman—Drawings, Paintings, Vessels and Objects," September 9 – March 3, 2012; for more on this exhibition, see: www.smmoa.org).



The Beatrice Wood exhibition at Francis M. Naumann Fine Arts also marks the 10th Anniversary of the gallery.