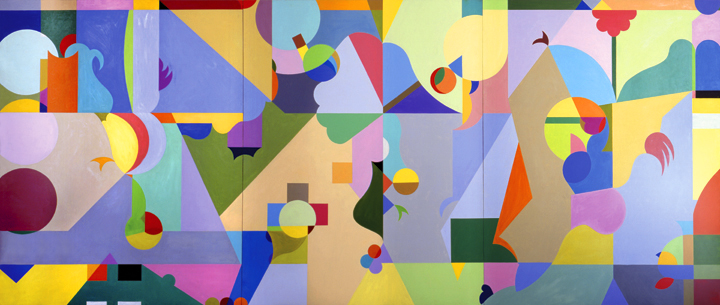 TO OPEN AT FRANCIS M. NAUMANN FINE ART
(January 4, 2006 – February 8, 2006)
Catawampus—a word that was once in common usage, but is now almost completely obsolete—originally meant 'askew; awry, wrong; crooked.' When used today, it usually is taken to mean 'diagonally; obliquely' (as in catty-corner, from which the word probably derived). Whatever its precise meaning, it is the ideal term to describe Don Joint's new series of paintings, which incorporate diagonal and oblique lines that—at first glance—appear to be askew, or gone awry from the overall format of the picture. Their titles help us to understand that although they are essentially abstract compositions—made of hard-edge lines and blocks of pure color—the subjects of these paintings are actually derived from specific historical models, in the present exhibition, paintings by well known European artists of the 18th and 19th century (Henry Fuseli, Thomas Banks and Pierre Paul Prudhon). Only an exceptionally large triptych—12 feet in width—is derived from an Italian Renaissance source: two detached and separated predella panels—The Crucifixion of St. Peter, and The Beheading of St. John the Baptist—that were once part of Masaccio's Pisa Polyptych.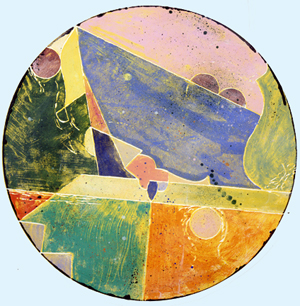 While this large triptych is painted in oil on prepared wood panels, most of the other paintings in the exhibition are painted on the luminous surface of white marble, slabs that were, in most cases, cut into a tondo format. This unusual material gives the surface of the painting a translucent, yet radiant quality. The show ends with a series of white-line woodblocks, a rarely used printmaking technique that was developed in America during the early years of the 20th century, but which Joint has been using for more than ten years.
The exhibition is accompanied by a twelve-page, fully illustrated catalogue with an introductory essay by Edward Leffingwell.
This is Don Joint's second show at Francis M. Naumann Fine Art. The first was a dual exhibition with the painter Brice Brown held in 2004 called "A Marriage in Paint."
Francis M. Naumann Fine Art specializes in the art of the Dada and Surrealist periods, as well as contemporary artists whose work displays related aesthetic and/or anarchic sensibilities.
Gallery Hours: Tuesday through Saturday: 11:00 AM – 5:30 PM (Mondays by appointment)